WELCOME TO
A BRAVE NEW WORLD!
IF YOUR HANDS AIN'T TREMBLING AND YOUR HEART AIN'T THUMPING, THEN YOU AREN'T CREATING. YOU'RE ONLY REPEATING.
FIRE UP THE BOLD IN YOU. AND IT'LL SET YOU FREE. REMEMBER, THE UNFORGETTABLE IS BORN OF THE UNEXPECTED.
FINDING YOUR BRAVE IS FINDING IT IN YOU TO BE HUMAN. TO BE COMPASSIONATE TO THE PEOPLE AROUND YOU. HELPING THEM WRITE THEIR STORIES. AND IN TURN, THEY WILL COME TO DEFINE YOURS.
AS EACH DAY TEACHES US SOMETHING NEW, LET'S MAKE OUR BRAVE OUR NEW NORMAL. SURE, THE TIMES ARE TOUGH, BUT SO IS OUR SPIRIT.
THE TIME NOW IS RIPE TO UNLEARN, TO QUESTION OUR PURPOSE, TO STAND UP FOR ALL THAT HELPS US STAND APART. ONLY THEN, WILL WE MAKE THE JOURNEY FROM WHO WE ARE TO WHO WE WANT TO BE.
WE HAVE TO GET COMFORTABLE WITH BEING UNCOMFORTABLE. LET'S BE UNCOMMON. AND CREATE A WHOLE NEW PATH FOR OURSELVES. THIS IS FOR ALL THOSE TIMES YOUR HEART TOLD YOU BETTER. TODAY, YOU HAVE THE CHANCE TO LISTEN. BRAVE ON.
WHAT WE DO
WE
HELP
BRANDS
FIND
THEIR
BRAVE
For brands looking to make real connections with people today, bravery isn't optional. Winning brands will have to make bold choices to stand for or against something. We help evolve a purpose that feels true and authentic and offers relevance beyond products and services.
Courageous brands understand how they exist in the lives of their consumers. They push boundaries to differentiate themselves from the competition. It's all about building on the learnings of the future, instead of retreating to what feels like a safe haven. Brave is passionately committed to such business propelling creativity.
Businesses are today recognising, that Digital
Transformation is not just about technology. It's about applying creativity to enable persuasive story-telling: the human stories that come from the edges. These creative extremes can be; a shoestring budget, a harrowing story or a seemingly impossible format limitation.
HOW WE DO IT
OUR
HUMAN-FIRST
APPROACH
GROWTH THROUGH GOODNESS
We identify and solve underlying social tensions, by uncovering your core brand truth and by legitimately addressing the unmet consumer need. We help you demonstrate how your brand makes a positive difference to communities it exists within.
THE EMOTIONAL EDGE
Empathy is no longer a soft skill. It drives hard outcomes. How brands treat people, their environment and how they support the communities in which they operate, profoundly impacts what people want, what they fear, how they behave and how they interact in the future.
TOGETHER, WE ARE BETTER
We have forged meaningful and thought-through collaborations with brand marketing and communication specialists to curate an entirely new experience for consumers- one that plays to their new expectations for convenience, speed and remote access.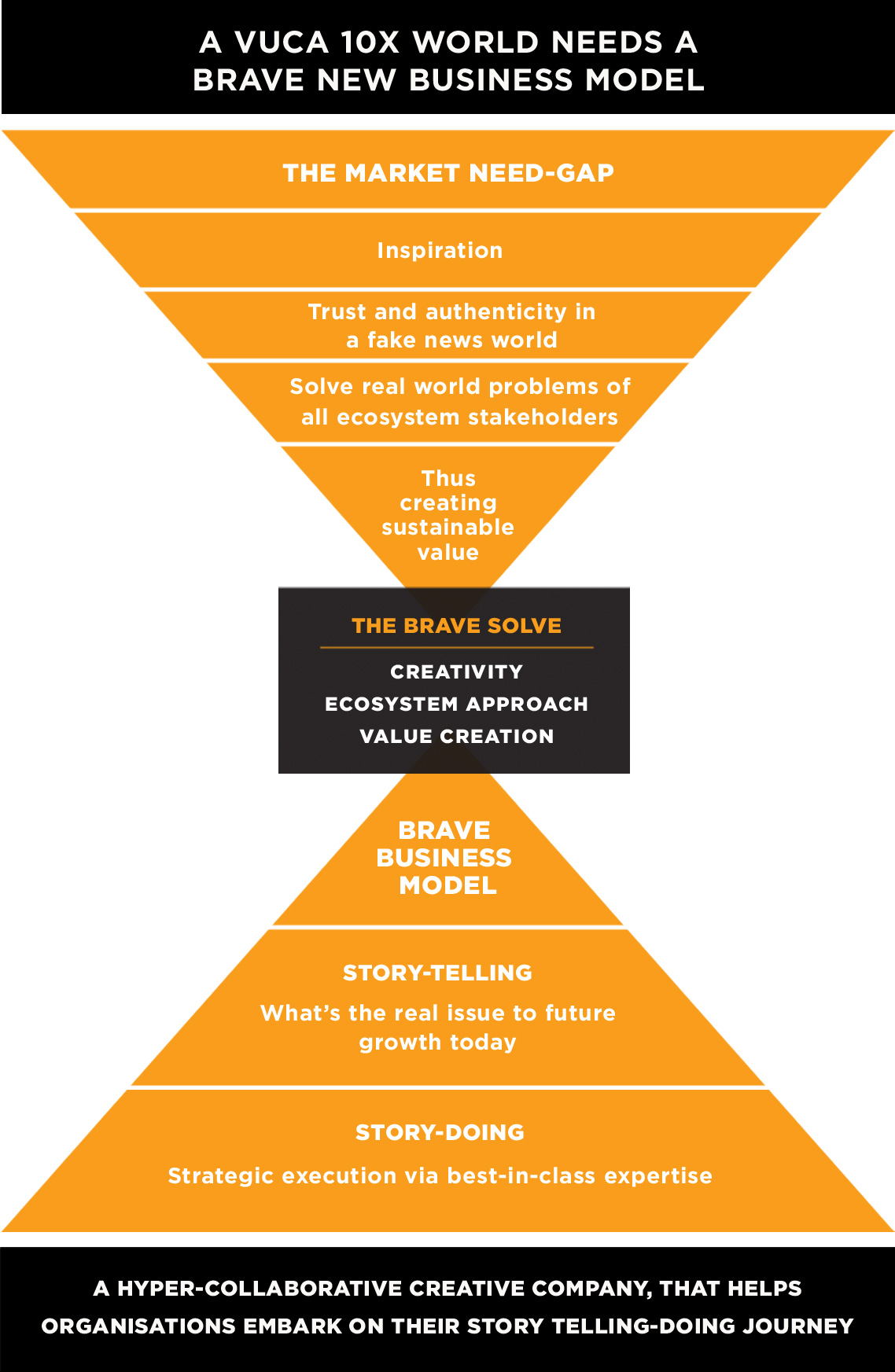 WHY BRAVE
OUR STORY IN SMS
WE ARE EXPERIENCED CREATIVE THINKERS
We've worked in some of the best agencies. Large networks. Creative boutiques. On every conceivable type of brand and category. Now we are available to you on your brand.
WE ARE HYPER-COLLABORATIVE
We have no silos, we don't solve problems in a linear manner, we work as high-performing teams, we have a culture of sharing ideas, knowledge and capabilities. And we have fun while doing so.
WE HAVE FLATTENED HIERARCHIES
We have no tall structures, no "boss" culture, no discrimination, no red tape, no bureaucracy and an inclusive work environment. What matters is just the value our teams add to your business.
WE EVOLVE PERSONALISED SOLUTIONS
We roll up our sleeves and do the hard yards. Our strategic and creative counsel is based on earned trust and years of proven expertise. We know that solutions have to be customised. That one size doesn't fit all.
WE ARE AGILE
We break down barriers, we encourage a fluid work environment, we focus more on leadership and less on management, we provide teams a purpose and identity. So that we can turn around work at 5G speeds.
WE ARE ASSET-LIGHT
We don't occupy expensive office space. We don't get fancy perks either. Which means our fees are never exorbitant for our clients.
WE ARE FEARLESS
We are willing to unlearn. We venture out of our comfort zone by staying curious. We embrace our vulnerability. We don't hesitate while making bold creative choices.
SERVICES
UNLEARN. UNDERSTAND.
UNCOVER. UNLEASH.
We work with clients to uncover their Brand Purpose and provide business propelling creativity

–Business Value Proposition
–Brand Definition and Brand Statement
–Innovation Funnel
–Customer Experience Strategy
–Data Strategy
–Culture, Consumer and Brand Insights
–Outsourced Brand Management

A comprehensive plan that combines communication disciplines to provide a seamless experience for consumers across different aspects of the marketing mix

–Content Campaigns
–Connections Planning
–Digital Transformation
–Content for OTT Platforms
–Sonic Branding
–Social and Influencer Marketing
–Strategic Reputation Management

3

BRAND EXPERIENCE DESIGN

We focus on designing experiences that create strong emotional connections with users, in order to build trust, drive preference, and ultimately create affinity

–Customer Journeys
–Design Language Systems
–Brand Identity and Naming
–Gamification
–Retail Environments
–Sonic Experiences
–Packaging

4

MEASURABLE MARKETING SOLUTIONS

We help deliver specific, measurable, achievable, relevant and time bound results for marketing programs.

–Performance Marketing
–Realtime Media Planning
–Content Strategy
–Content Production
–Interactive Production
–Responsive Web

5

IN-MARKET IMPLEMENTATION

We ensure timely and high quality execution that results in translation of the Brand Purpose to moment-of-truth customer experiences.

–Interactive Technologies
–Animation and Motion Graphics
–Visual Craft and Photo Studio
–Print Production and Visual Merchandising
–Post-production
–Experiential and Event Production
RAJIV SABNIS


BRAVE BRAND GROWTH SOLUTIONS

Founder

RAJIV SABNIS


BRAVE BRAND GROWTH SOLUTIONS

Founder

Over three decades of being deeply involved with the top management of businesses/ brands across categories, has given Rajiv rich perspective on solving a wide range of business, marketing and brand challenges. His role is primarily to provide creative business solutions to opportunities/ challenges posed by clients.

Rajiv has managed the P&Ls of some of the largest offices of multinational agencies successfully. As the Executive Director and President of the DDB Mudra Group, as the Chief Operating Officer of Ambience Publicis and as the Mumbai and Delhi Office Head of Contract Advertising (A WPP Group Company).

The profit-center role was his mainstay for the last two decades of his career. His responsibility spanned Mumbai, Delhi, Ahmedabad and Chennai over these roles. He has also mentored talent and been instrumental in creating a strong culture in the various organizations he has worked within.

ASHISH PHATAK


BRAVE BRAND GROWTH SOLUTIONS

Co-Founder

ASHISH PHATAK


BRAVE BRAND GROWTH SOLUTIONS

Co-Founder

After nearly two decades of creative experience in large multinational organisations like Ogilvy, Publicis and DDB Mudra, Ashish is now keen to apply creativity to business opportunities/ challenges. He has overseen large multi-disciplinary creative teams of writers, designers, content creators and technologists.

As the Co-Creative Head of DDB Mudra West, he had been involved in creating work for some of the biggest brands like McDonald's, Union Bank of India, Sony IPL, Lipton, Hotstar, Walls, FBB and in his previous organisations with Cadbury's, Asian Paints, Vodafone (Previously Hutch and Orange) among others.

Over the last decade, he had worked to grow DDB Mudra West into a creative force that notched 2019's top honours like Kyoorius Agency of the Year, a Silver at Campaign Brief's Creative Agency of the Year, second place at Effies, and glory at some of the biggest award shows like Cannes, D&AD, Goafest,One Show, Spikes Asia and Adstar. Ashish has over 150 wins and finalists across these prestigious award shows.
COLLABORATIONS
THE POWER OF TOGETHER
Independent and entrepreneurially driven, our valued collaborators are like-minded and share the passion, purpose and journey of Brave. Some of the best minds in the industry, who have associated with us, to offer business propelling creativity to brands.
CREATIVE CATALYST

SONAL DABRAL

CREATIVE CATALYST

Sonal Dabral

Creative Consultant/ Writer/ Director/ Keynote Speaker/ Former Chief Creative Officer South East Asia at Ogilvy/ IAA Creative Agency Leader of the Year. Deeply passionate about advertising, blackjack and single malts, Sonal Dabral studied Visual Communication at India's leading design school- the National Institute of Design (NID). Over a 30 year career, Sonal has led agencies to creative glory in 3 different markets across Asia. At Ogilvy Mumbai in the '90s, he helped transform the agency, to become India's No.1 Creative powerhouse. He did the same with Ogilvy Kuala Lumpur leading the office to become the most awarded in Malaysia. Ogilvy Singapore was next, where he led his team to become No.1 in the Creative Ranking in Asia, and the third most awarded office in the world at Cannes Lions 2007. He returned to India in 2011 to head Bates, followed by a successful tenure at the DDB Mudra Group. In September 2017, Sonal returned to Ogilvy India as the Vice Chairman and Group Chief Creative Officer, and in January 2019 he took on the additional role of Chief Creative Officer of Ogilvy South East Asia. In March 2020, Sonal left Ogilvy to pursue his life-long dream of long form storytelling and content creation.

Digital Transformation

DViO Digital

Digital Transformation

Sowmya Iyer

Founder & CEO

DViO is a global, integrated marketing organization that transforms brands to grow in a technology-driven world. DViO facilitates integrated strategies with a digital-first approach to craft experiences that connect the brand with its consumers. DViO's campaigns are built on a foundation of data and creativity while being enhanced by proprietary and exclusive technologies. With offices all over the country, DViO has established a network of people, agency partners and brands that work together to solve business issues and build profitable brands. Services offered include Digital Strategy and Consulting, User Experience and Design, Digital First Brand Campaigns and Creatives, Technology Solutions in AR, VR, ML and AI, Data and Analytics, Organic Traffic Building (SEO and Content Marketing), Digital Media Buying and Performance Marketing, Social Media, Influencer Marketing.

Business Value Proposition Design

Superstar Business Solutions

Business Value Proposition Design

Abhijit Pradhan

Chief Explorer & Executive Coach

Superstar Business Solutions was founded by Abhijit after 16 years in Marketing, Media and Advertising as a calling to address the "challenge of alignment" he encountered in many organisations. Trained as a certified Executive Coach, he explored, tested and deployed various methods and tools like Design Thinking Immersion and Workshops and Innovation Sprints to help pilot and implement initiatives like Company Visioning/ Value Proposition 2.0/ Digital Transformation over the last 12 years. Superstar helps senior leadership teams arrive at and co-create the 2.0 for their team/ division/ company that they feel jointly committed towards. The 12 year journey of Superstar has been about working on the above "WHY" while continuously updating their "HOW" (Tools and Frameworks) to help achieve the "WHAT" (untapped Potential) for various companies like- Sony Pictures Network India, Godrej and Boyce Group (Storage Solutions, Material Handling, Construction and Tooling Business Units), Sodexo India, Marico, Amazon India, Accenture India, Helios Media, Idealake, AF Mercados, Blue Square, EEMA among others.

Sonic Branding

BrandMusiq

Sonic Branding

Rajeev Raja

Founder & Soundsmith

Founded by Rajeev Raja and Ajit Varma, BrandMusiq expresses a brand's essence by applying the science of sound and the art of music. Creating a sonic identity that connects with consumers at a deeper, more subliminal level. In this digital era, music and sound play an increasingly important role in building a brand's identity. Which is why a brand needs a MOGO® or a 'musical logo' - the sonic essence of a brand in musical terms, evoking its core values, emotions and persona. BrandMusiq has created sonic identities for several Indian and Global brands including HDFC Bank, Vistara, Zomato, TATA Salt, Nestle (Asia Pacific), Kraft Heinz (Asia) and Mastercard (Global) to name a few. The company recently launched BrandMusiq XP- a new initiative in the experiential space. This division focuses on creating bespoke sonic solutions for brands in the digital space, using a combination of creativity, musicality and technology.

Visual Craft

Team Qench

Visual Craft

Avadhut, Makarand, Pratthamesh and Neil

Team Qench

Qench is born out of the convergence of skills, diversification of creative outputs, passion for visual arts and different perspectives towards the advertising industry. At Qench, the team strives to bridge the gap between intention and action. They bring together the finest in photography, films and digital content. Be it planning, executing, producing or finishing, you will always have access to skills that you can trust. Qench is also a space where you can do much more than work through Qench Live. If you are looking for photographers, visual engineers, hair stylists or make-up artists to feed your idea with the right talent, this is the door you should knock. You'll find some of the best talent from across the globe, all under one roof. QENCH Shoot. QENCH Edit. QENCH Create. And QENCH has a good time while at work too. Abundant in options and never short of genius. Simply put, they make your search easy.

Culture, Consumer and Brand Insights

The Third Eye

Culture, Consumer and Brand Insights

Gitanjali Ghate and Jasmeet Kaur Srivastava

Managing Directors

The Third Eye was founded in 1993 by Gitanjali Ghate and Jasmeet Srivastava with the aim of bringing a multidisciplinary approach to consumer market research. Their curiosity about the world around them, and hunger to decode and demystify it, is infectious. It drives path breaking thought and action for both their people and their clients. This company is a fusion of diverse skills and shared passion; individual expertise and collective wisdom, uncommon tools and a common mission- to track the consumer from the physical to the emotional and unearth insights that are simple, potent, and impactful. To unearth data, it takes keen sight. Turning it into gold though, takes a lot more- skill, expertise, and experience undoubtedly. But most importantly, making that final leap from valuable to invaluable, calls for vision. The vision of a Third Eye. Key services offered are qualitative research, cultural understanding, ethnography, workshops and brand strategy.

Brand Definition and Brand Statement

Azendor Consulting

Brand Definition and Brand Statement

SOURABH MISHRA

Managing Partner-Branding

Azendor's forte is in brand definition and to create a powerful brand proposition for businesses. Azendor is a response to the way business leaders are thinking today. Organisations are looking for partners who are highly experienced professionals at the top of their game, and who can provide holistic support services in business functions which are essential, but non-core, to the organisations' businesses so that they can focus on excelling in their core competency. Azendor: a name inspired by 'ascender', which is a mountaineering device that keeps climbers safe as they climb up steep terrains. Azendor's flat operational structure ensures that the top talents work on every client's business. This brings in agility and ensures that nothing is lost in translation in interactions with the clients.

Animation and Motion Graphics

Studio Eeksaurus

Animation and Motion Graphics

SURESH ERIYAT

Founder & Creative Director

Studio Eeksaurus was founded by E. Suresh, in partnership with his wife Nilima Eriyat, in 2009. The studio deals with production of films in a media agnostic manner indulging into cinema, television, web and digital platforms. It is a design-driven multi-platform production and content creation studio. Which means they specialise in audio visual amalgamation and idiosyncratic culmination of wacky ideas and techniques aimed at creating astonishingly odd balled solutions. Simply put, they make great films. Not to toot their own horn but amidst all their horsing around they have also won plenty of awards and accolades such as the Annecy, Abby, Hiroshima, New York Television Awards, Asia Pacific Adfest Awards, Spikes Asia, Cannes Lions, Epica, Clio, HaFF, Promax, Ajijic, Animamundi, Krok, Anima, Teheran International Animation Festival and Stuttgart to a name a few.

Strategic Reputation Management

Pitchfork Partners

Strategic Reputation Management

Sunil Gautam and Jaideep Shergill

Founding Partners

Pitchfork Partners is a strategy consultancy committed to taking care of your reputation– from building it to protecting and maintaining it. In all scenarios. At all times. The Pitchfork family has marketing and communication veterans who have gone through the test of fire over decades. They also have as advisors top names responsible for shaping the reputation of many national and multinational businesses. Pitchfork believes that when traditional ways don't work, tailored solutions do- and experienced minds make all the difference. They are your warriors. They believe challenges are opportunities in disguise and disruptions are merely doors to success. Pitchfork Partners will always tell the truth, no matter how brutal. The firm is founded by industry stalwarts Sunil Gautam and Jaideep Shergill (previously founders of MSL India and Hanmer and Partners).

Interactive Technologies and Gaming

Root 16

Interactive Technologies and Gaming

Rupesh Mandke

Co-Founder & Head of R&D

Root 16 Interactive is an award winning creative studio that leverages Game Development Technologies to offer services in Game Development, CG Animation, Mixed Reality Experiences and Interactive Rides. It is founded by industry professionals with more than 60 years of collective experience in the Interactive Entertainment industry while working at prestigious organizations such as Electronic Arts, Creative Assembly, PTC and Prana Studios.    Whether it's Mixed Reality, Real-time CG Production or Interactive Training Apps, Root 16 gets involved right from envisioning the idea to delivering it to its audience with best possible quality and engagement. Recently Root 16 Interactive was awarded an Epic Mega Grant to focus working on their original CG Animation IP Gilli Gilli Phhooo, along with this, they recently launched an Interactive Educational AR Application for ImagiMake's Mapology Board Game.

Brand Strategy, Innovation, Capability

CrystalEyes

Brand Strategy, Innovation, Capability

Amar Wadhwa

Founder & Executive Director

CrystalEyes, is a brand and marketing strategy consulting company started by Amar Wadhwa in December 2009. He brings 25 years of cross-functional experience in Brand Strategy, Advertising, Consulting, Media and Research. CrystalEyes works with clients across Marketing Strategy, Marketing Innovation, Marketing Capability and Training. On very large MNC and Indian businesses, as well as with start-ups. They see themselves as agents of growth and change, bringing best marketing practices from across brands, industries and geographies to create winning strategies for their clients. They have successfully executed projects in Brand Blueprint Development, Insight Mining, Market Entry Strategy, Development of Training Content, Innovation Funnel Workshops, Outsourced CMO Assignments, Product and Communication Propositions, Marketing Capability Workshops, Rx to OTC Switches, Rejuvenation Strategy, Retail Experience Strategy, Unified Single Brand Strategy and Development of Internal Purpose for clients like Conagra, Whirlpool, Livguard, Daikin, Tuborg, Carlsberg, Halonix, Orient Cement, Sun Pharma, Mercedes Benz, Nexa (Maruti Suzuki), Michelin, Bajaj Discover, Tech Mahindra, KPMG, Typhoo and McVities among many others.

Digital Sports Fan Engagement

Sportz Interactive

Digital Sports Fan Engagement

Siddharth Raman

Chief Business Officer

Sportz Interactive is a leading sports-focused content and technology solutions company with a vision to revolutionise the sports fan experience by creating best-in-class products. Started in 2002, the company now has over 450 'players' on its team and is growing continuously. They strive to deliver the best in sports data analytics, data visualisations, gaming and social media innovations, web and mobile products, content management and video solutions. Originally focused only on sports data, Sportz Interactive, in the last few years, has expanded to become a 'sports data and fan engagement' company with the launch of social media innovations, broadcast solutions, infographics and analytical products. With a client portfolio ranging from broadcasters, leagues and sports teams to media companies and start-ups, Sportz Interactive covers a gamut of top domestic and international sports- FIFA, Bundesliga, ICC, ISL, Pro Kabaddi, Hockey India, Khelo India, Yahoo Cricket being some of the prominent names among them.

Print Production and Visual Merchandising

STUDIO13

Print Production and Visual Merchandising

Shireesh Sabnis

Founder

Over three decades of market-honed experience and expertise in Print Production, Digital Imaging Studio and In-design Studio. Has extensively worked on special projects in designing, printing and fabrication, visual merchandising, events, exhibitions, in-shop displays, signage and outdoor. Has demonstrated expertise in record management, client communication, productivity improvement, work flow planning and prioritization as well as administrative management. He is highly versed with market support activity. Research and analysis of latest trends in printing industry from across the world. The work done for some key clients includes- Taj Group of Hotels, Lakme, Raymond, P&G, Ceat- RPG Group, Theobroma, Garnier, Mercedes Benz, Citibank, Marico Industries, HUL, Godrej, TVS Suzuki, Bisleri, Thums Up, ITC Welcomgroup Hotels, Vazir Sultan Tobacco, Voltas, Westside among many others. His Advertising Agency experience includes Publicis Group, Ambience, Red Lion (a design company) and Enterprise Advertising. Shireesh is a Silver Medalist and a Double Diploma holder in Printing Technology from the prestigious J.J. School of Art, Mumbai.
PEOPLE
YOU VALUE EXPERIENCE,
ONLY WITH EXPERIENCE
AMAN MANNAN

Creative Consultant, Content Writer and Screenwriter

AMAN MANNAN

Creative Consultant, Content Writer and Screenwriter

Aman is a storyteller who has worked in Multinational Advertising agencies for 17 years. He has worked on almost every category- FMCG, E-commerce, Finance, Automobile, Retail, etc. and on a plethora of Indian and international accounts/ brands- Mahindra and Mahindra, Radio Mirchi, Marico, P&G, Unilever, HDFC Bank, HDFC Life, Union Bank, Future Brands, Reliance, JBL, Myntra.com, Craftsvilla.com, etc. He has written and managed campaigns that have won national and international recognition. He now works as a Creative Consultant, Content Writer and a Screenwriter. In the past two years, he has written a series of children's books, short stories, two web series, two films (in pitches). Right now, he is in a writing room for Maddock/ Homi Adjania/ Hotstar.

MANISH DARJI

Creative Consultant, Graphic Designer, Illustrator and Animator

MANISH DARJI

Creative Consultant, Graphic Designer, Illustrator and Animator

Manish Darji is an Art Graduate from the prestigious MSU College, Baroda. He has a keen interest in Advertising, Digital, Graphic Design, Illustration, Product Design and Animation. He is a widely awarded personality of the Indian Advertising fraternity. During his tenure till date, he has taken home prestigious awards right from the ABBYs to Spikes Asia to One Show, D&AD, LIA, Adfest, New York Festivals, Cannes Lions, Cresta and Kyoorius. With over 19 years of experience, Manish brings a wealth of knowledge to the work. He's worked with agencies such as DDB Mudra, BBH, McCann Erickson, Ogilvy, Rediffusion Y&R, Bates 141, Marching Ants and has worked on world renowned brands such as Volkswagen, McDonald's, Coca Cola, NDTV, Western Union, Fevicol, Cadbury, Tata Nano, Virgin Mobile, Skoda, CRY, TVS Wego, Marico, Vaseline and Vat 69.

ADRIAN MENDONCA

Creative Consultant and Long Format Writer

ADRIAN MENDONCA

Creative Consultant and Long Format Writer

Adrian is an award-winning Creative Consultant with expertise in ideation, copy, film writing, touch-point communication, digital content, corporate literature and audio-visual conceptualization. Earlier, he was National Creative Director with Dentsu Marcom. Adrian also had a nine year stint with Rediffusion DYR as Vice President and Executive Creative Director. He started his career with Mudra and Contract Advertising. He has worked closely on brands like Vimal, Taj Group Of Hotels, Tata Motors, Phillips Audio and Lighting Systems, Colgate, Airtel, Hindustan Petroleum, Citibank, Indian Oil, Maruti Suzuki, Daikin Air Conditioners, to name a few. More recently he has been closely associated with Mercedes-Benz, TV News 18, Raymond Apparel, FedEx, Honda Cars and 2 wheelers, the Adani Group, Mumbai Police and Society Tea. Over the years he has won national recognition at the Ad Club, Cag and AandM Awards. Internationally, he has won at the Cannes Ad Festival, Asia Pacific Awards, New York Festival and London International Ad Festivals.

MITALI SRIVASTAVA HOUGH

Founder and Chief Strategy Officer, The Equal Agency

MITALI SRIVASTAVA HOUGH

Founder and Chief Strategy Officer, The Equal Agency

From journalism and politics to the gnarled galleries of Advertising, Mitali's career is a journey that personifies being brave. An MBA, TV Reporter for Zee News, Deputy Editor for a magazine, Mitali took the plunge as a strategic planner in advertising nearly 20 years ago.  Under her leadership, old-school brands became disruptive, large brands saw quick-turnarounds and entrepreneurial brands have been transformed. She was the first woman planner who co-founded a successful ad agency called Utopeia and has recently launched her second agency, called 'The Equal Agency' that specializes in CSR solutions. Prior to being an entrepreneur, she worked in DDB Mudra as Associate Vice President, across verticals of DDB India, DDB Health and Lifestyle, Rapp India and Tribal DDB. She has also worked at Ogilvy & Mather and TBWA India. She gets bored with stereotypes and is currently writing a unique film script for AR Rahman.  

KUNAL SAWANT

Creative Consultant, Designer, Film Director and Screenwriter

KUNAL SAWANT

Creative Consultant, Designer, Film Director and Screenwriter

Deeply passionate about films, advertising, music and solving puzzles, Kunal Sawant graduated in Applied Arts at one of the best art schools in India, Sir J.J. Institute of Applied Arts. In the span of 16 years of his career, he has worked at some of the leading advertising agencies like Ogilvy, BBH, Leo Burnett, Bates. Winning some prestigious advertising awards at Cannes Lions, One Show, Spikes, Abbys, Kyoorious, he has been a creative lead on some the big brands in India and around the world. After a successful stint at advertising, Kunal is on his journey to pursue his life-long dream of film making and storytelling.

ZAID FAROOQI

Loyalty/ CRM Strategy and Hospitality Marketing

ZAID FAROOQI

Loyalty/ CRM Strategy and Hospitality Marketing

Zaid has a rich experience in loyalty programs, multi-brand coalition CRM programs and marketing in the service industry (hotels, airlines and real estate). He also has added skills in reputation/ crisis management and corporate communication. In a career spanning three decades, Zaid has made an impact in several large service brands like the Taj Group of Hotels, Tata Credit Cards (Tata Sons), Mahindra & Mahindra, VFS Global and Air France. He launched and ran the The Taj InnerCircle (Loyalty Program) and the Epicure Card (F&B Program of the Taj Group) across India. He also conceptualized and launched India's first multi-brand coalition Loyalty Program for the Tata Group (Tata Sons). Zaid has held several critical roles in these organizations- as CEO and Head of Tata Cards, Director Marketing and Communication/ Director Direct Marketing and Loyalty Programs of the Taj Group of Hotels, Senior VP and Head of Customer Engagement of VFS Global, Marketing Head (South Asia) of Air France, Marketing Head - Mahindra Realty (Mahindra Group), and Resident General Manager of the Taj Bengal, Kolkata among a few others.

MANDAR ACHAREKAR

Creative Consultant and Designer

MANDAR ACHAREKAR

Creative Consultant and Designer

Mandar is an award-winning Creative Director with a rich experience of 16 years. With more than 25 National and International awards including the prestigious Cannes, D&AD, Adfest and many more. Mandar has been associated with building and enhancing brand identities like Audi, Tata Consultancies, Jet Privilege, ICICI Securities, confectionary brands like Ferrero, Nutella, London Dairy, also brands like Parle-G, Parle Wafers, Government brands like Indian Army, Indian Airforce, etc. Over the years he has been part of noteworthy Advertising agencies like Leo Burnett, Grey and Dentsu India to name a few. A J.J. School of Arts alumni, Mandar has a knack of doing things with a creative out-of-the-box mindset, that has not only led him to win accolades but also helped create Brand Identities that are here to stay.
WORK
GET COMFORTABLE
WITH BEING
UNCOMFORTABLE
WORK IN PROGRESS
CLIENTS
FOR WHOM BRAVERY
ISN'T OPTIONAL
RESOURCES
THANKFULLY,
THESE RESOURCES
ARE RENEWABLE

COMING SOON